Blog Entry - another miniature quilt completed
I love putting miniature quilts together, and when I saw this pattern of George Siciliano's "Tree Dimensional" a couple years ago when I was taking a class at the National Quilt Museum, I knew I had to have it and that it would be made up at some point!
The time finally came in fall 2016 to start this off, and I confess that it was a daunting proposition to start with once I read the directions thoroughly. There are 31 blocks in this pattern, with each block measuring a finished 3 inches square and each containing 71 pieces. The technique used for this pattern foundation paper piecing, where each piece is meticulously placed and sewn on the "back" of the drawn pattern so that there's an exact placement based on the actual pattern piece but from a standpoint of the person sewing, you must thing about placing the pieces upside down and backwards so that when they're flipped out and ironed correctly on the other side, they'll actually be completed as frontside up and forwards! :-) (I like to think of it as Ginger Rogers to Fred Astaire...everything she had to do was the opposite of what he did!)
There's no speed records that can be set on this kind of project, each piece needs to be sewn, trimmed, and ironed into place. So I found the best way to attack it was to cut and sew all the same pieces to each of the 31 blocks in consecutive order, such that piece 1 would be set 31 times, then piece 2 would be set 31 times, etc. In this way I could use a spare 45 minutes in between concert prep, practicing, and presentations as time allowed to do one round and at least keep working it at a time there wasn't much time to sew.
The effort started in late October 2016 and was about half way completed when the holiday break began in December 2016, you can see from the picture below what the half-completed blocks looked like. So much excess "stuff" around them that it was really hard to visualize the completed pattern even at this point.
But once the holiday break came, I began to sew in earnest so that this would be all done by the time the next busy period started in January. With more time, I was able to completed about 5 or 6 "rounds" of 31 times each piece per day. And finally the blocks were all completed in early January 2017 and here is a piecture of the blocks all completed but still untrimmed.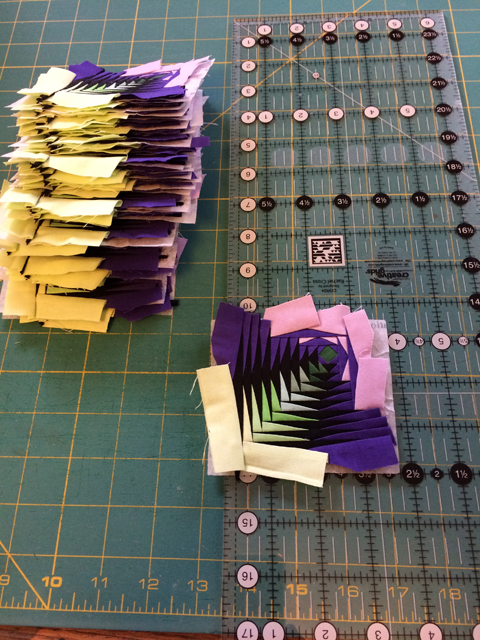 From that point it was easy and only took anothe rday to finish it. Everything had to have a final trim and additional black material cut to create the triangles. Here's a piecture of the inititial layout including the blocks and some of the black triangle fill on the outside. Now that the blocks are trimmed, the design is really starting to pop
And finally, the finished quilttop. It still needs backing and binding but the effect is very much there now.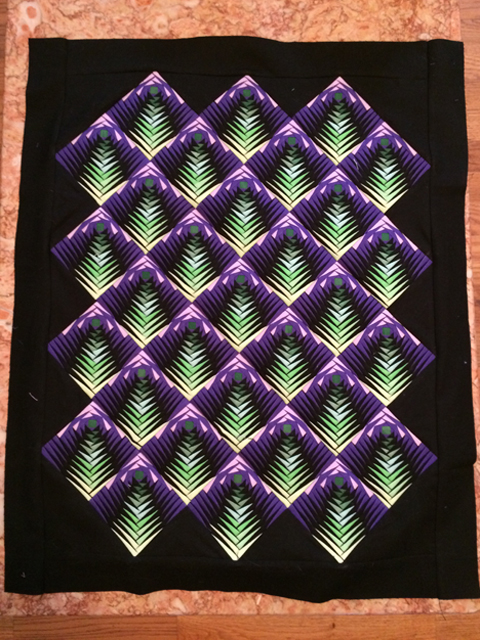 Be on the lookout for other miniature quilts coming in the future, I really do enjoy working these when I have the time!